22-24/11/2017 – Syndeseas represents Cyprus at Ideas from Europe competition (Tallinn – Estonia)
Syndeseas was selected to represented Cyprus at the "Ideas From Europe" competition!
Our team Syndeseas, winner of the Cyprus Digital Championship 2016-2017 competition, was officially selected to represent Cyprus in the European Competition "Ideas from Europe". The competition was held in Tallinn – Estonia between 22-24 November 2017.
Syndeseas was represented by our CEO Mr. Michalis Agapiou.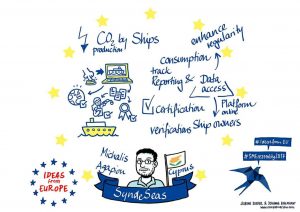 Below is a video of the Syndeseas pitch: